Systems Workbench Redpaper Published.
30 June 2010.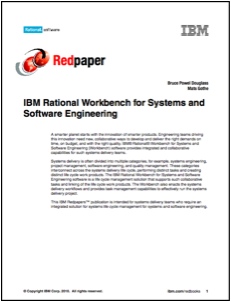 – "A smarter planet starts with the innovation of smarter products. Engineering teams driving this innovation need new, collaborative ways to develop and deliver the right demands on time, on budget, and with the right quality. IBM® Rational® Workbench for Systems and Software Engineering software provides integrated and collaborative capabilities for such systems delivery teams.
Systems delivery is often divided into multiple categories, for example, systems engineering, project management, software engineering, and quality management. These categories interconnect across the systems delivery life cycle, performing distinct tasks and creating distinct life cycle work products. The IBM Rational Workbench for Systems and Software Engineering software is a life cycle management solution that supports such collaborative tasks and linking of the life cycle work products. The Workbench also enacts the systems delivery workflows and provides task management capabilities to effectively run the systems delivery project."
The new IBM Redpaper is intended for systems delivery teams who require an integrated solution for systems life cycle management for systems and software engineering. It illustrates how proven methodologies and best-of-breed tools, such as Rational DOORS, Rational Rhapsody, Rational Team Concert, and Rational Quality Manager, can help you design high-quality products that meet customer requirements during the innovation process for smarter products. The paper was produced by  IBM Rational Solution Architect Mats Göthe and Chief Evangelist Bruce Douglass. We provide an expert look into the processes and best practices that enable effective product development.

Download the Systems Workbench Redpaper published at the at the IBM Redbook site.