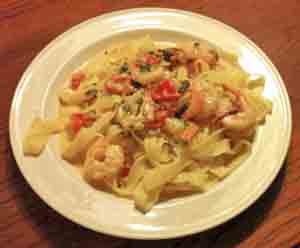 Vid varje USA resa med jobbet har det blivit minst en middag med scampi och pasta. Kanske inte så ekologiskt, men gott. Ofta på Red Lobster eller Chili´s. Recepten är lite olika och jag har två exempel. Min variant med en starkare tomat-karraktär från Chili´s. Det andra receptet är från Red Lobster med en mer Alfredo-liknande gräddsås.
Ingredienser
Olivolja
3-4 hackade vitlöksklyftor (fryst från ICA)
4-5 soltorkade tomater
2 plommontomater
riven parmesan
1 msk tomatpuré
1,5 dl kycklingfond (spädd)
1 dl vitt vin
pressad citron
3 dl grädde
basilika (fryst från ICA) ev frys ruccola
Stora räkor (Scampi)
500g Tagliatelle
Gör så här
Stek försiktigt vitlöken mjuk i olivoljan
Skär de soltorkade tomaterna i riktigt tunna strimlor. Lägg tomaterna i stekpannan och låt de värmas.
Dela plommontomaterna i halvor eller klyftor. Ta bort kärnor och allt 'blött'. Hacka tomaterna i mindre bitar. Lägg åt sidan.
Häll på buljongen, vinet, tomatpurén och grädden. Låt det koka under några minuter
Lägg i parmesan, basilika, ruccola. Koka lite till.
Lägg i räkor. Droppa över lite citron.
Lägg på de hackade tomaterna.
Koka upp, men låt inte räkorna koka mer än en minut.
Servera med nykokt Tagliatelle.
Red Lobster Shrimp Pasta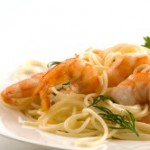 This dish is filled with flavor as shrimp and clam juice combine to give you a pasta dish bursting with seafood flavor. Besty sent in her recreation of this wonderful dish from the Red Lobster. This is very easy to make !
Yield: 6 servings.
1/3 C. olive oil
3 cloves garlic, minced
1 lb. shrimp, peeled, deveined and remove tails
2/3 C. clam juice or chicken broth
1/3 C. dry white wine
1 C. heavy cream
1/2 C. freshly grated Parmesan cheese
2 Tbsp. each lemon juice and chopped parsley
1/4 tsp. each dried basil leaves and dried oregano leaves, crushed
1 package linguine pasta (8 ounces) cooked and drained
Heat oil in large skillet over medium-high heat. Add garlic; reduce heat to low. Simmer until garlic is tender. Add shrimp in same skillet and cook over medium-low heat until opaque. Remove; reserve liquid in pan. Add clam juice (I use the chicken broth when I'm out of clam juice); bring to a boil. Add wine; cook over medium-high heat 3 minutes, stirring constantly. Reduce heat to low; add cream, stirring constantly. Add cheese; stir until smooth. Cook until thickened. Add shrimp to sauce. Heat through. Add remaining except linguine. Pour over linguine in large bowl; toss gently to coat. Serve with additional grated Parmesan cheese, if desired.