Collaborative ALM Redbook Published.
5 January 2009.
The CALM Redbook is today officially published in its final version and available for PDF download and hardcopy print-on-demand at the IBM Redbook site.
In this IBM® Redbooks® publication, we provide a blueprint for Collaborative Application Lifecycle Management (CALM) and show how the new IBM Rational® products support this evolving market. Driven by the business demands of global software delivery, many large organizations are seeking guidance in how to incorporate agile methods.
In this book, we provide a reference scenario and tool architectures for deploying the new IBM Rational products into an existing enterprise environment. We also provide a set of blueprints that define each of the key disciplines in the development life cycle to help you understand the domain and how the Rational products support the need of that discipline. Our primary focus is to highlight the value of CALM by providing a user view of the solution that is used to support a distributed enterprise development team that incorporates aspects of the "Agility-at-Scale" approach.
While most Redbooks publications provide details about a single product, this book provides a "green-thread" reference scenario that details one end-to-end path through an iteration of a software development project. The scenario demonstrates a reference architecture for an enterprise that uses the new Rational Jazz technology-based products along with the existing Rational team products. The scenario includes Rational Build Forge® Enterprise Edition, Rational ClearCase®, Rational ClearQuest®, and Rational RequisitePro®, and introduces Rational Quality Manager, Rational Requirements Composer, Rational Software Analyzer, and Rational Team Concert.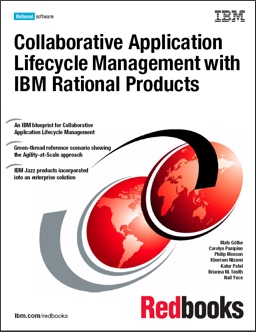 – "Wow! Finally done".  This project started back in Q1 2008 with a great team of Rational product specialists from the Rational Lab, Support, and Technical Sales around the world coming together for 6 weeks of authoring in Lexington, Massachusetts. The Redbook is available for download at the IBM Redbook site.  Check it out!
The author team consists of :
Mats Göthe, Solution Architect on the Rational Cross-Product Green Threads team.
Carolyn Pampino, Solution Architect on the Rational cross-product Green Threads team.
Philip Monson, Business Development Project Leader for the ITSO.
Khurram Nizami, Responsible for worldwide enablement of Rational products.
Katur Patel,Staff Software Engineer at for IBM Rational Software..
Brianna M. Smith, Staff Software Engineer with Rational and IBM for the Requirements Customer Advocacy Group and a Delivery Engagement Manager.
Nail Yuce, Rational Advisory Accredited IT Specialist in Turkey.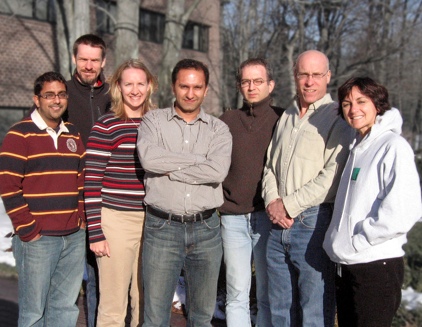 In picture above from left, Katur, Mats, Brianna, Khurram, Nail, Phil and Carolyn.
For those of us that traveled to US on this assignment this was a long time from home. During weekdays we made huge progress working as a team…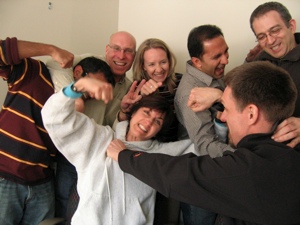 During the weekends we had rich opportunities to work in an undisturbed environment…

All jokes aside, we had a great time as a team producing this Redbook. The Redbook provides an end-to-end walkthrough on how to apply lifecycle management in a project. The published material is based on an end-to-end greenthread scenario and documents how to configure and use the Rational ALM tools in an project environment that integrates new Jazz based tools like Rational Team Concert and Rational Quality Manager with classic Rational tools like Rational ReqPro and Rational ClearQuest.