IBM Design Portfolio – Global Development and Delivery
Green Threads

Green Threads was an early precursor to many of the outside-in design principles we see in IBM today. It captured user design scenarios across a set of products that solve a customer problem. It moved out organization beyond product thinking.
The team worked on several Green Threads (hills). In 2006 – 2010 we made key innovative contributions to the design of the Rational Application Lifecycle platform.
Let me summarize the client challenges we uncovered by researching Global Development and Delivery and Application Lifecycle Management.
Researching Global Development and Delivery
In 2006 I performed user research and established sponsors for the GDD solution in the Rational Board of Advisors and with Global System Integrators (GISs) in India.
We identified new trends impacting our GDD design strategy
Enterprise development model is challenging
Consolidate infrastructure to centralized hubs
Connect global teams with remote access
Connect global teams into supply chains
Be aware of competitive pressure from open source
Called out by our Board of Advisors
Need to launch new projects quickly
Need to provision new global sites quickly
Collaboration between distributed teams are key to success
Read more about the research and analysis on trends and challenges of Global Software Development in this blog and the article published in 2008 as an article on Developer Works.
View the session material from Rational User Conference 2007. Challenges and Approaches in Global Development and Delivery.
These research results formed our GDD User Experience Strategy
Formulating a GDD User Experience Strategy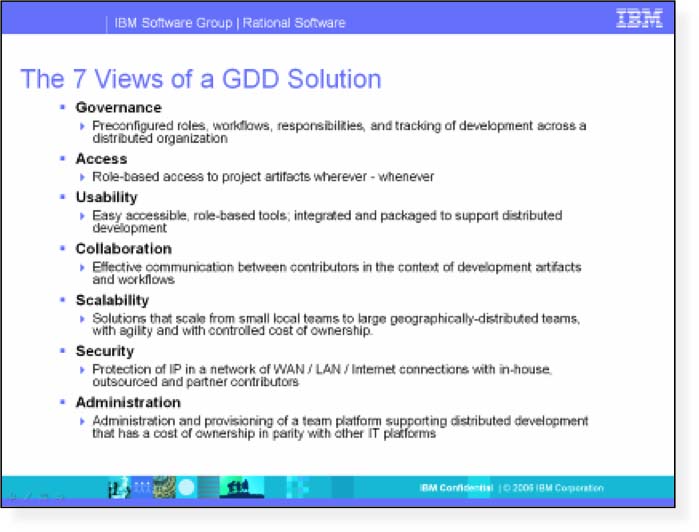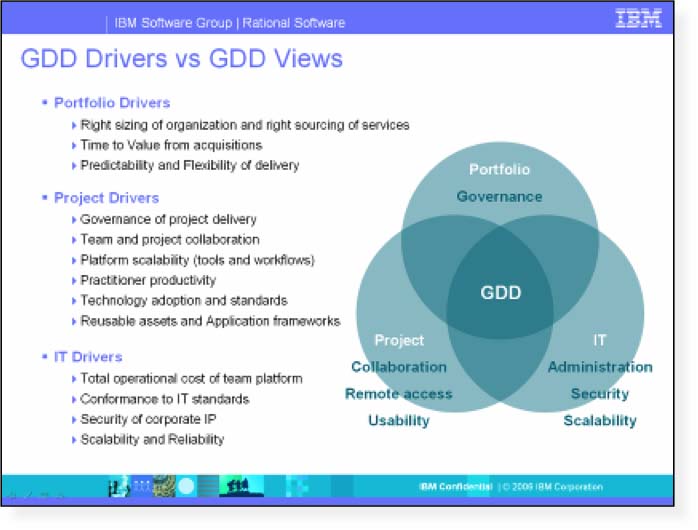 Based on my analysis we formulated a GDD UX strategy
7 Views identifying the key aspects of global delivery
GDD Drivers identifying the stakeholders and their incentives
We formulated a hill for GDD that 'global organizations can grow development capacity and achieve cost savings by providing a centralize the development infrastructure with remote access to global teams'
This UX strategy was driving our
Design scenarios for GDD
Product strategies approved by the GDD Offering Team
Solution and product design for GDD
How did scenarios help designing the to-be solution?
The Global Development and Delivery scenario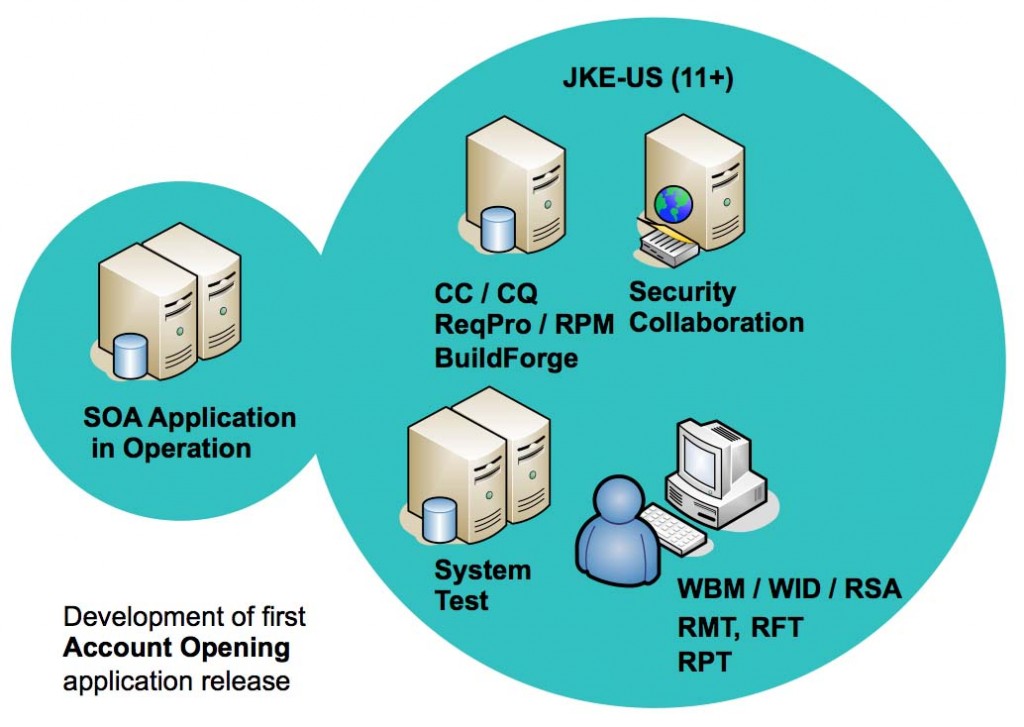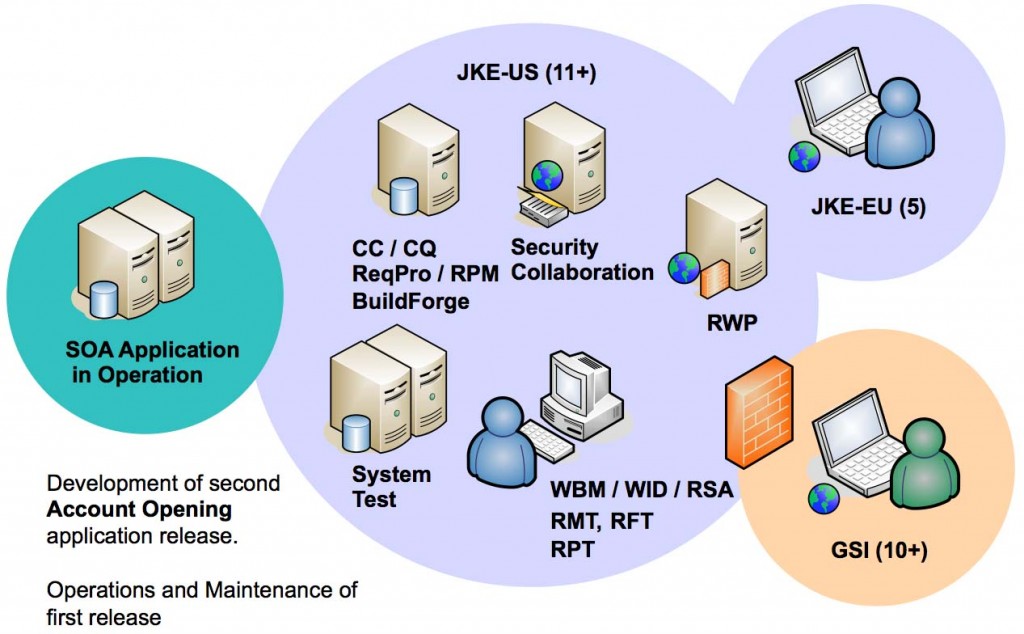 The GDD scenarios outline the steps for a client that is transforming from a single-site development team to a global delivery organization. This scenario was chosen based on its business importance to our sponsors and to the overall design of the DGG solution.
The design scenario covered the following acts
Setup the Distributed Environment
Develop a new application release
Fix a problem in the first release
What actionable outcome did we accomplish?
Improved GDD Capabilities Delivered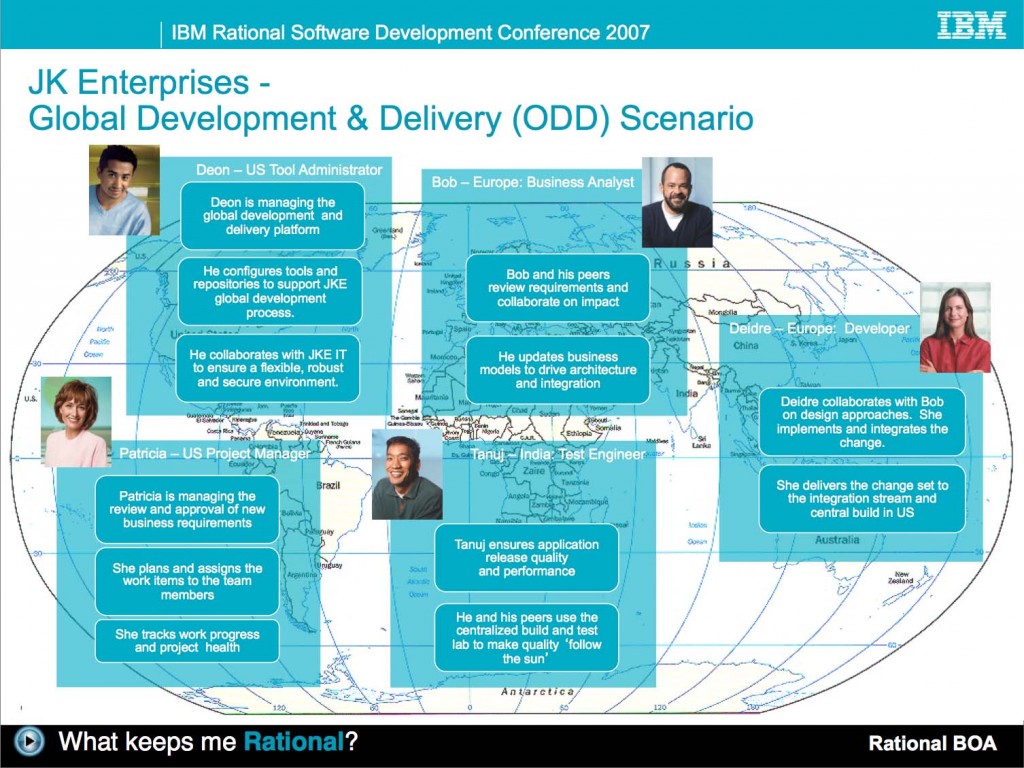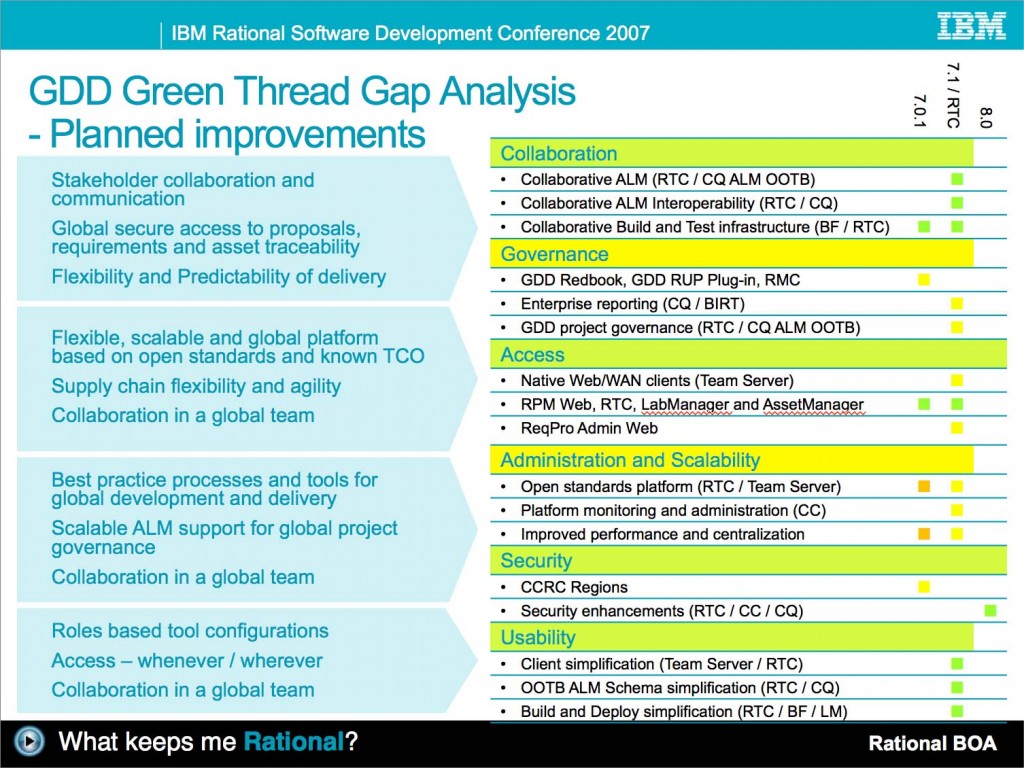 I measured the solution improvements, by release, based on the design of the 7 Views identified in research. We reported back with our design improvements to our sponsors in the Rational Board of Advisors.
The GDD design improved the solution by
Remote access via WAN and web with acceptable performance
Secure access to information and assets
Collaboration across sites
Agility of setup and administration
Process and governance of distributed and outsourced project
What other GDD client values did we achieve?
Improved GDD Provisioning Delivered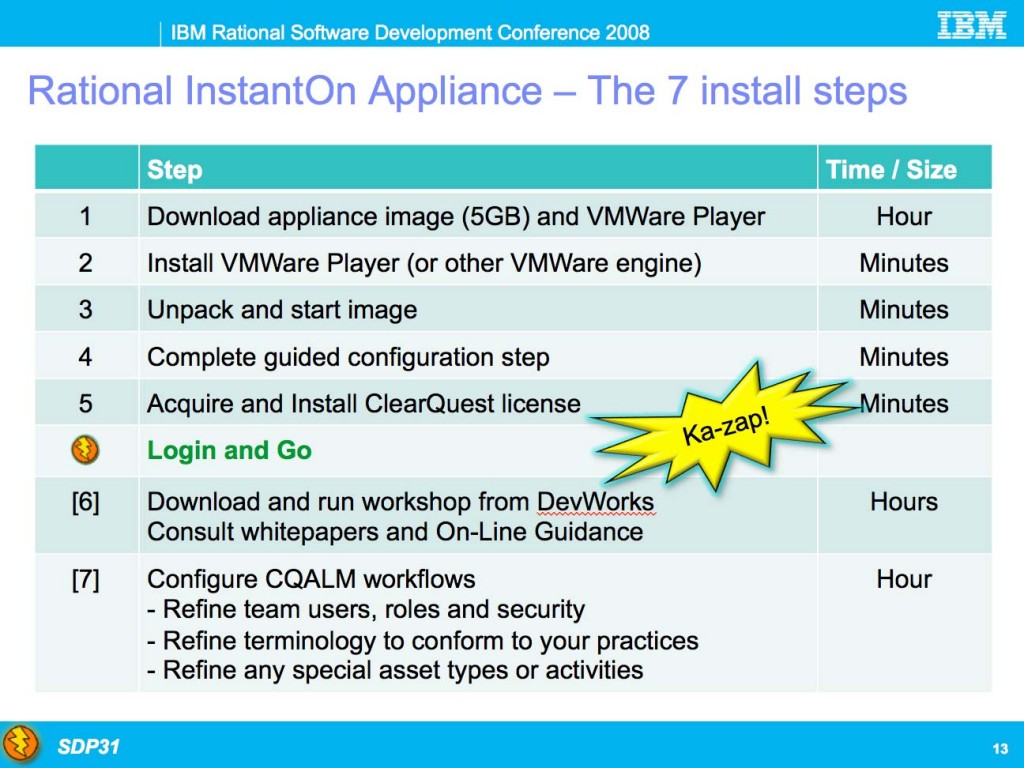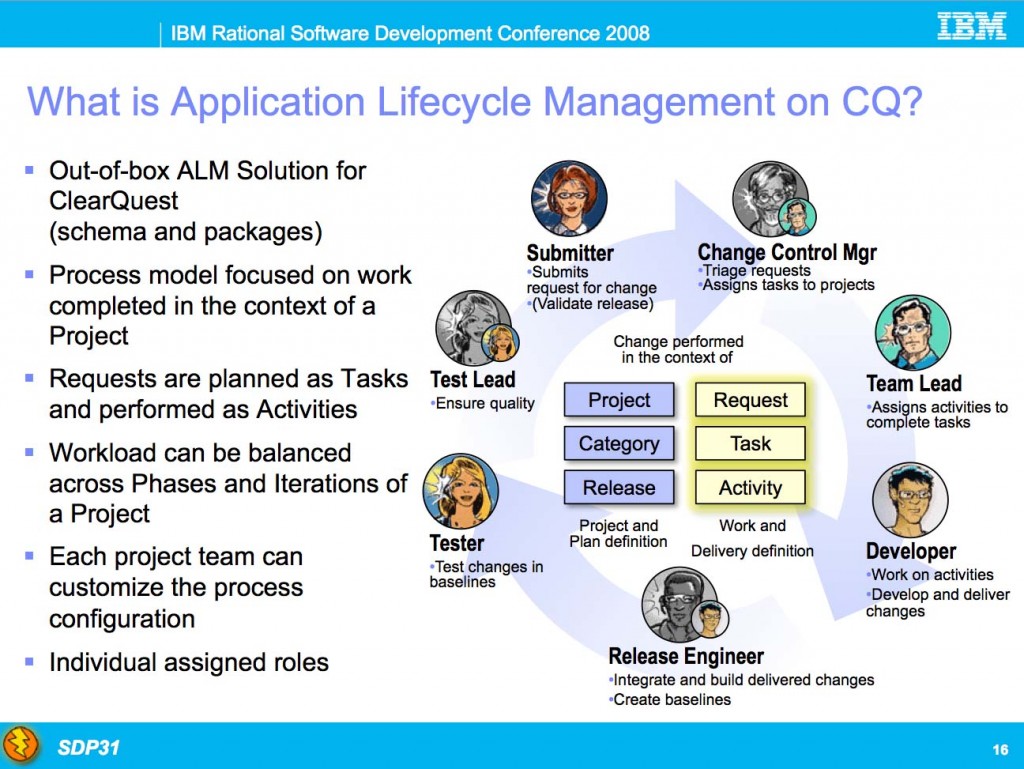 The design for provisioning of new projects focused on a centralized enterprise sized infrastructure and remove access. For smaller agile distributed teams we innovated a new way of 'solution packaging and distribution' using Appliances.
The design delivered
Pre-configured appliance with ClearQuest server on Linux
Out of the box CQALM schema
Product licensing and support
Novel license for non-commercial and commercial distribution
Fulfilment through Partners or Web downloads
Simple deployments achieved: Download – Power up – Go > Instant On
What other GDD client values did we achieve?
Learn more about
Improved GDD Operational Cost Delivered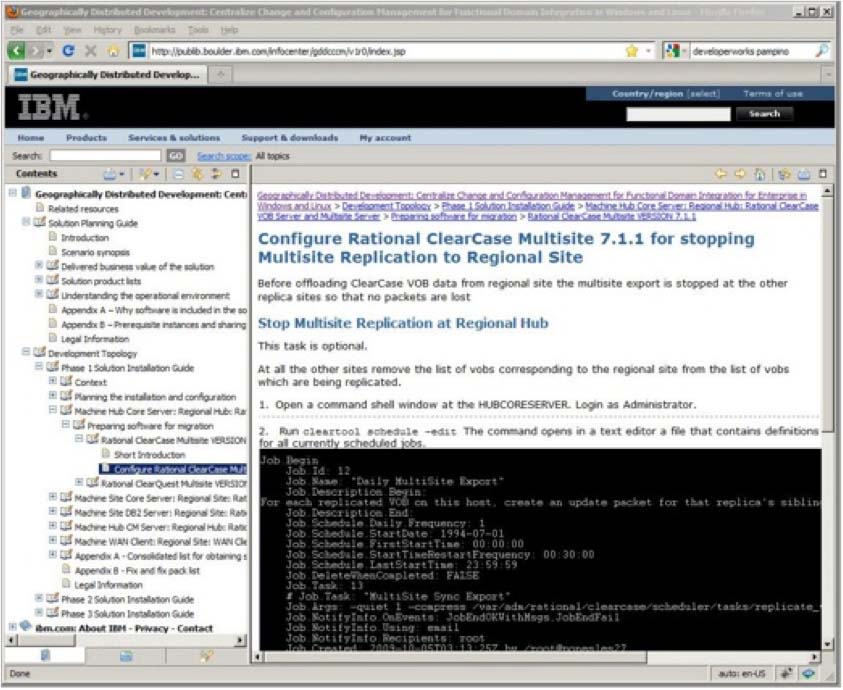 In 2010 I led a +1 project to provide a customer adoption route, documented in this information center, on planning and step by step instructions to existing ClearQuest and ClearCase customers on how to improve total cost of ownership (TCO) and business response time by optimizing Globally Distributed Development through centralization of infrastructure services for change and configuration management.
The guidance in the information center describes the impact on team workflows and roles as administration responsibilities are moved from regional sites to a centralized administration team.
Read more about the +1 GDDCCCM Information Center