Centralized change and configuration management for geographically distributed development
21 Sep 2010
"When globally distributed teams transition development projects to a centralized change and configuration management infrastructure, they can collaborate more efficiently to create valuable deliverables. The newly published IBM Publication Center feature,Geographically Distributed Development: Centralize Change and Configuration Management, describes how to make this transition. This resource provides instructions to plan for centralization and to regionally deploy IBM® Rational® ClearQuest® and IBM Rational ClearCase® environments to a centralized regional hub."
This new article were completed just before my exit from IBM. Its great to see that it got published so quickly. The article focuses on the business context and value as a background for the more pragmatic and hands-on GDDCCCM Information Center that was released in February.
If you are interested in understanding the challenges with distributed SCM and CCM infrastructures and would like to consolidate to manage infrastructure and staff cost, start with this introductory article and then proceed to plan your transformation projects using the step-by-step guidance in the GDDCCCM Information Center.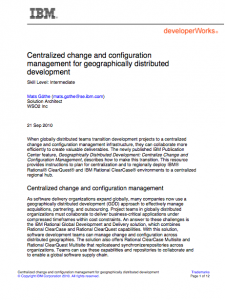 The article is published on IBM DeveloperWorks. Or get the PDF here.
Chinese… anyone?